Show Me The Money: Business Growth Relies On Timely Release Of Bond Retentions
Case Study: How Frasers Property Used DLP Manager to Get Their 2% Construction Bond Back 2 Months Early
The Challenge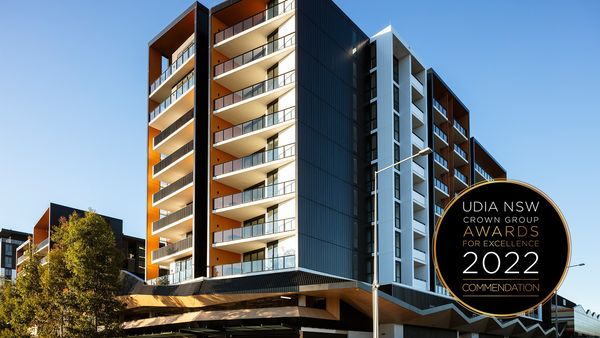 In 2018, one of the first strata bond schemes under the Strata Bond Inspection Scheme (SSBIS) were the four apartment towers at Edmondson Park.
Frasers Property Australia, one of Australia's leading developers, chose to work with DLP Manager to handle the post construction defects management of this project.
Retention funds are 2% of the construction cost. Return of these funds promptly after the 2-year Defects Liability Period ends, requires efficiency, multiple stakeholder collaboration and ultimately, proof of satisfactory resolution of all reported defects by the building consultants and owners committee.
It is the builders and developers who must put up the 2% bond representing the full amount of the construction cost, which is held in a trust account, with NSW Treasury.
These funds are relied upon by construction companies and developers such as Frasers, to fund future projects and grow their business.
Unfortunately, this rarely goes to plan, as most post construction completion typically drags out well past the 24 month period, due to process inefficiency, and 'old-school' management-by-spreadsheet.
With construction profit margins becoming narrower, and legislated quality standards in place, digital transformation is now an essential for brands such as Frasers to be at the forefront of consumer confidence, reputation as well as profitability.
Complying With The New Online Strata Bond & Inspections Scheme (SBBIS)
Frasers is ramping up digital adoption for efficiency in bond returns by making it easier for stakeholders and inspectors to access and cross reference information easily.
Under the new online SBBIS, developers of new apartment buildings four storeys or higher must pay a building bond to NSW Fair Trading equal to 2% of the total price paid or payable of all contracts for the building, and must follow the below process:

DLP Manager automates the process, with all of the images, documentation and signed completion for every one of the nominated defects easily accessible within the system – ensuring that the final report is completed on or before 24 months. Creating an online, collaborative environment.
The Defects Liability Period Problem And Solution
Consultant

Developer / Builder

Traditional

DLP SOLUTION

Reports are not user-friendly and issued in PDF/Word to developer.
Responses are made via marked up word document.

No tracking of comments.

Photos not in a useable format.

Inspections, locations and access impossible to manage and arrange. Back and forth by text and email.

Collaborative and transparent environment with access by all stakeholders, to share documents and communicate all within one shared platform.

Additional Inspections no longer required.

All photos, locations and access requirements are available in a usable format for qualifying, actioning and proof of resolution of the defect.

Dependent on Excel Spreadsheets to manage all the items and track progress.
Overhead hours dedicated to manually adding data and notes to an inefficient format (Excel / Word).
DLP's structured workflow and unique traffic light system within a manage table, filters and enables access to all necessary information.

Inability to delegate the defect to the correct sub- contractor as missing all the necessary information about each defect.

Double handling. Sending out emails with the excel spreadsheet, full report and photos.

Only 6 seconds for the Developer to issue items to the builder.

Only 10 seconds for the builder to issue item to sub-contractor.

Automated notifications go to all necessary stakeholders.

No live tracking regarding access or status of the item.
DLP's unique Traffic Light System allows live, real-time tracking of each item – visually.

Trouble gaining access to apartments.

No visibility over access request

Multiple forms of communication required to track the right sub-contractor for the job, and then to issue notifications.

Multiple full time resources (staff) required to coordinate owners and subcontractor availability.

Contact details of residents are available in the user profile.

DLP's automated access request feature allows teams to automate bookings with residents.

Automated follow-up notifications issue if no response is received.

Documented history of access requests.

Part-time project manager assisting with access and tracking of items to meet the time line

Full time supervision to coordinate the nominated defects necessary even for even the smallest project.

Heavily reliant on boots on the ground handling each step of the process.
DLP's built-in transparency and accountability improves off-site management.
No acceptable proven evidence of rectification without mandatory fields for the subcontractor to provide evidence.

Multiple mediums collecting and double handling information and data

Lost information and data

Lack of accountability by the subs to provide data

"One source of truth" of completion.

Completed documentation has mandatory fields to ensure accountability.

All information is collected in one easy to use App.

Completion documentation is linked to the original reported item making closeout easier.

Inability to track date of completion and owner confirmation and no way to tracking status of defect.

Time consuming regular meetings to track and manage open/closed/in progress items.

No time status updates.

Manage tables give clear visual status of each defect eliminating the need for meetings.

Inefficient collation of information for issue to the building consultant across multiple mediums.

Manhandling of the data into a usable format for issue to the building consultants.

Multiple communications via email file share etc.

All data is collected and linked to the original item in one spot.

All completed items are tracked in the manage tables.

Full history of each item is available online, in Excel or PDF if required.

Consultant must gain access to ensure works have been carried out.
Access and inspections are minimised due to having clear documentation provided against each item.
Consultants must compile a report with evidence of completion to developers.

A report is available without having to re-compile the same information.

No information is ever double handled in different systems.
Eliminating The Thousand Line Spreadsheet With A Digital Platform Solution
The word documents and spreadsheet of defects below is a snapshot of the typical documentation that is uploaded into DLP Manager at the start of a project.
Given the volume and complexity of communicating the reported defects, it's not hard to imagine why bonds don't get returned on time. How can a construction business run successfully with so much future growth held back by inefficient processes?
How do you efficiently track and respond to one photo on a word document? You don't. And this is the heart of the problem in having the full bond returned on time.
Example of One 2 Page Defect In SBBIS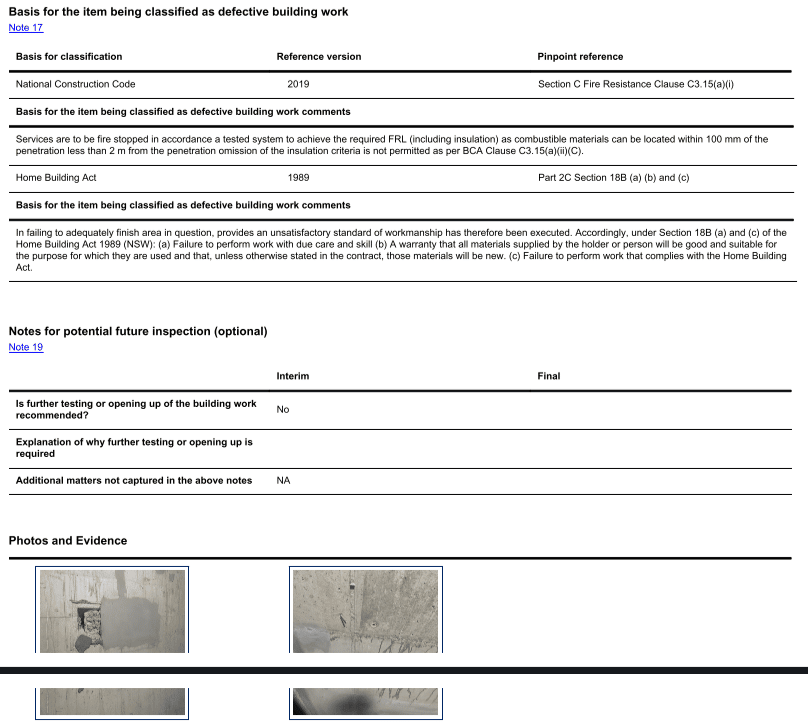 Example Original Spreadsheet: 3,657 Defects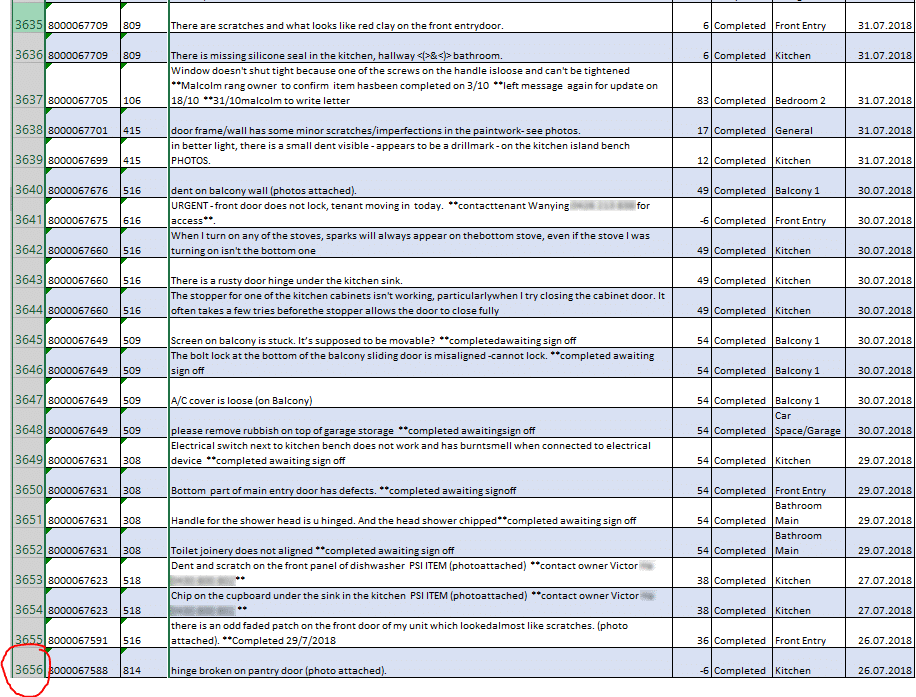 DLP Manager's Solution: Automated Workflow, Eliminated Touchpoints & Site Visits
DLP Manager's platform is a structure that is 'one source of truth'. All the building, product, warranty and documentation as required by the NSW Planning Portal and more, gets uploaded into DLP Manager to ensure quick, easy and transparent reference by all stakeholders throughout the 2-year period and to mitigate any legal challenges that might slow the return of the bond.
Workflow System – Automated and managed by workflow and a series of alerts which drive a Manage Table (Traffic Light System).
Status Reports & Graphs / Charts – Show status of open/closed defects at any time, and category or product problems and trends.
Communication Within The System – SMS, email, calendar and signature evidence approval, all within the system – keeping subcontractors accountable.
Transparency – of all aspects, for all stakeholders.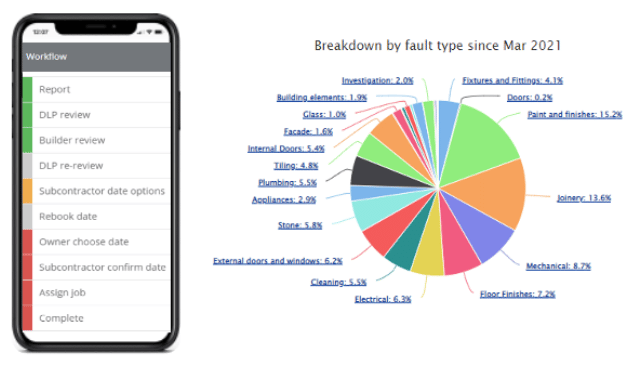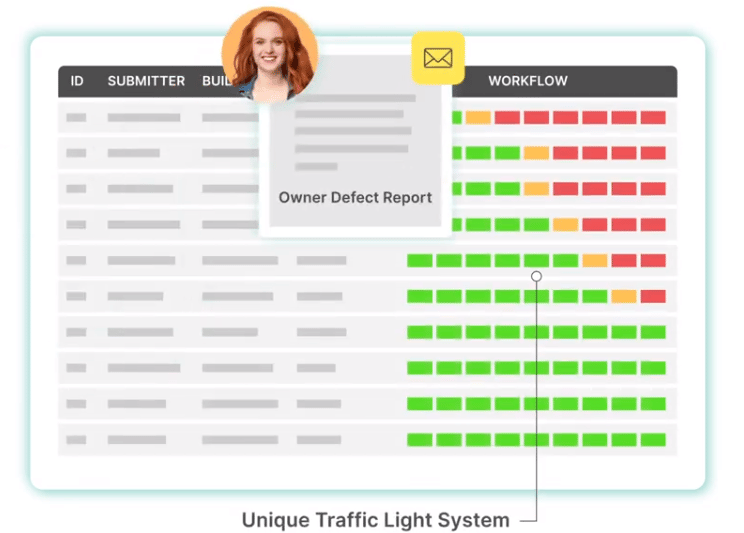 The Frasers Case Study Results: How DLP Manager drove the return of the 2% Bond
Within 72 hours after receiving the SBBIS reports defects uploaded and issued to subcontractors.
All defects automatically linked to all the required defect details, documentation and communication, with all the relevant building, product and methodology data and documentation.
Access dates were issued by subcontractors within 5 working days after reviewing the defect information, with automated follow up notifications.
Subcontractors that did not return the defect were auto-reassigned to a new subcontractor and a back charge notice sent to the original subcontractor, this back charge notice was noted against their retention claim.
Within 3 months of issue of the building report works were completed and documented.
Final inspection at 23 months by the building consultant, approved for the bond release at 24 months.
Direct access to the data enabled contract finalisation and bond retention return for the commercial team.
Note: An Extension of Time (EOT) was issued to Frasers Property of 3 months due to the special extenuating challenges of 2022 including Covid, record rainfall and a skills shortage.
DLP Manager eliminated double handling. Reported defects were sent to the DLP Manager platform and deployed to sub-contractors within one week.
DLP Manager difference
Without DLP Manager

Hours/week
or project total

With DLP Manager

Hours/week
or project total

Developer PM
3
DLP Manager administrator
5
Builder PM
6
Developer foreman
6
Builder Foreman
10
Building Manager
6
Building Commercial Manager
2
Total Hours
33 hours

Total

79 Days
5 hours

Total

9 Days
Subcontractor efficiencies with heavily reduced administration:
Streamlined access through booking tool and automated reminders for access.
Ability to document and close out on site.
Proof of accountability when access wasn't granted.
Tracking of onsite staff.
Owner's experience:
Post rectification inspection minimised or eliminated.
"We found working with DLP Manager on a recent SBBIS project an extremely effective tool in closing out reporting and achieving deadlines; subsequently allowing NSW Fair Trading to release the building bond to the developer. The DLP Manager system's comprehensive documentation enabled us to efficiently track the recorded defects and associated works in tandem with the builder, together with reviewing photos and resident sign off for each individual item. We found DLP Manager allowed greater streamlining of the works and communication between all stakeholders involved." – Alan Stewart, Building Consultant, MBMpl
Independent Report Demonstrates DLP Manager Also Boosts Profit and Cost Efficiency
Independent consultant, Ink Consulting conducted an independent study of a mid-sized project compares tangible costs of inefficiencies and overheads along with other intangible costs and risks associated with a project not managed through DLP Manager.
The summary of this cost benefit analysis of the DLP Manager difference is below:

In summary, the Edmondson Park case study demonstrates and proves the financial model developed by Ink Consulting. Download the editable spreadsheet here.
Projects Of Every Size Can Achieve On Time Bond Return & Boosted Profits By Using DLP Manager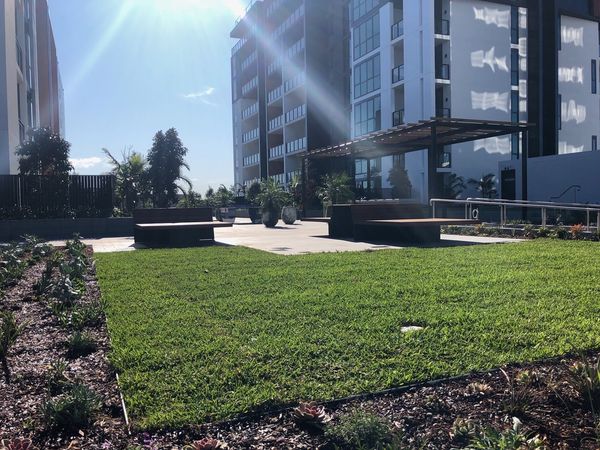 We were initially nervous about the SBBIS report, under the new legislation. The structure in DLP Manager provide a clear and concise list if the items we were responsible for and allowed a collaborative platform for us to discuss each item with the builder.
The mobile platform allowed the construction team to easily connect the owners and arrange access.
We were able to track this with the calendar feature.
The documentation linked to each item allowed my site team to quickly identify the site.
The app allowed my guys to quickly document and close it out with the owner. I was notified immediately and could confirm the works were closed out.
With the introduction of an online collaborative tool, we have been able to minimise the onsite inspections and general administration.
For this isolated example, we have over delivered on the forecast.
It's hard to list all the intangible benefits, but from our experience in managing this procedure, and as independently acknowledged in the independent report, the tangible and intangible costs of not executing the project effectively and efficiently can have huge negative drain on a project profits and project team.
Lost margins and utilisation of bond capacity are holding back the construction industry. However, there are incredible financial outcomes and benefits to using DLP Manager.
"Without DLP Manager, the bond release is delayed past 24 months, and often for a further six months, and the opportunity cost of not utilising those funds to invest in the next projects. Not only was Frasers able to get their bond back early, releasing millions of dollars in future investment, the financial modelling proves that using DLP Manager, can boost profit by an impressive 22% with an 80% cost savings." – Nick Baxter, Consultant at Ink Consulting.
"We were thrilled to provide Frasers with the result and over delivering on the goals set through the challenges of 2022. We were able to conclusively prove that by implementing the right technology the financial, reputational and productivity KPIs can be over-achieved." – Chris Polin, DLP Manager.