The Best Scheduling Solution for Managing Defects
A Case Study:
The Challenge
Leading Australian construction company, Probuild looked to the DLP Manager platform to maximise efficiency in the way they handle the post construction defects management phase of their recently completed Edmondson Park project, comprised of four buildings of 240 apartments in total.
Like most construction companies, they managed defects by paper and Excel spreadsheets while relying on administrative staff to handle the process through emails, mobile phone images, Word documents and PDFs.
The bottom line? It's an inefficient way to manage the hundreds of minor defects reported by customers during the Post Construction Defects Liability Period. The construction administrative staff were frustrated, and found themselves dealing with customer service complaints.
On top of this, valuable professional construction team members were required to manage the process, with little to no training, resulting in poor outcomes while also pulling them away from the next project, which ultimately impedes corporate growth.
As a result, DLP Manager provided its all-in-one software solution to effectively manage the end-to-end process through its single platform which handles every process, documentation, providing a record of every step.
As two of Australia's most reputable property providers, Probuild and Frasers Property have a premium reputation as builders and developers, which means providing new property owners with the highest standards of customer service and customer satisfaction with their new home.
Coordinating owners with the contractors
The two companies' mutual goal was to set the industry standard in the post construction phase through collaboration and premium customer service.
And good customer service means delivering on commitments. And this can be challenging, when doing so requires relying on so many different people (touch points) just to have a leaking tap fixed!
For example, even a small defect like a leaking tap requires no fewer than six stakeholder touch points and eight steps!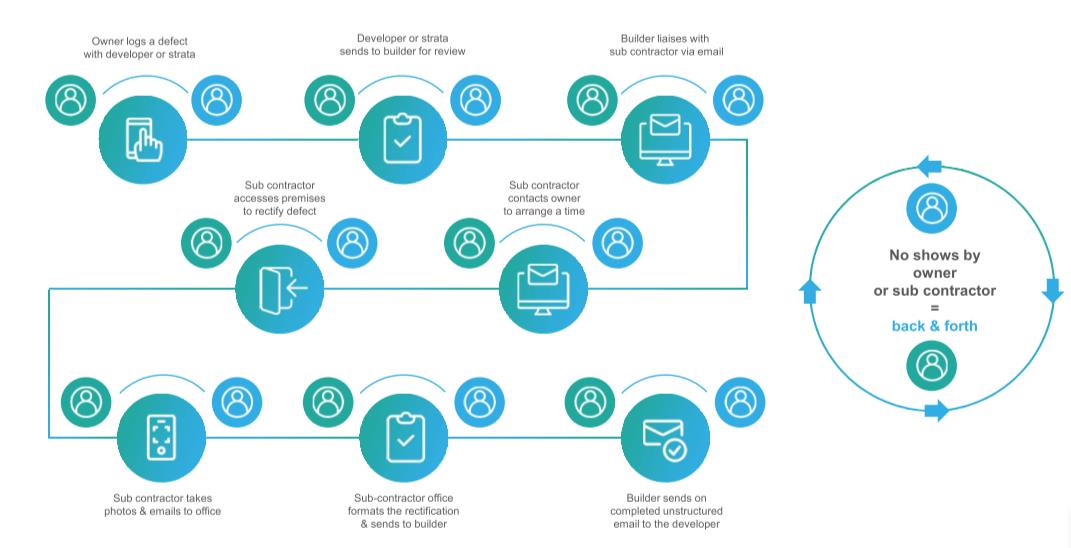 In this scenario, with multiple touch points and people involved, one breakdown in communication can result in frustration, cost – and reputational risk.
Ensuring delivery and avoiding claims with compliant documentation is mission critical.
Both Frasers and Probuild expressed frustration over past projects, where fraudulent claims were made by contractors and owners alike as to the resolution of defects.
Each claim requires multiple meetings, phone calls and mediation by senior managers. This in turn, often creates an environment of mistrust, with 'he said/ she said' blame and miscommunication.
The only solution was to have a representative from the companies make an onsite visit to determine the truth. And the cycle would start again each time there was a dispute, adding time and cost.
DLP Manager Solution
Bridging the gap between Frasers clients and Probuild's sub-contractors was a challenge that DLP Manager had intrinsically designed into their innovative platform – reducing time spent, especially with phone calls and miscommunications – by 95%.
The platform provides a visual traffic light system providing all stakeholders complete transparency along the way.
Designed to ensure traceability of the entries and actions of both the owners and subcontractors, the process is fully mitigated by a review of the logged defect – showing the history of "he said she said" at the click of a button and providing one "source of truth".
The DLP Manager solution for Probuild included:
All in one platform that replaced spreadsheets, with full visibility by all stakeholders in real time, online, every day, keeping everyone accountable
Sub-contractor accountability through the unique design of the platform and driven by a dedicated defects manager
Simple, visual 'green light' system closes out defects easily and quickly so Probuild and Frasers were able to easily see and run reports on the project's status
The ability to move construction team/s away from projects and reallocation of resources
Customisable reporting and data analytics to enable Probuild to achieve continuous improvements
"One source of truth" for all issues in the post construction phase
Full documentation and simple access to allow financial/ commercial management post construction
The Results
DLP Manager has delivered a stress-free and collaborative working relationship between the Frasers post construction team and their clients.
As a single source of truth of all post construction items the collaborative platform allowed Frasers to answer all the questions regarding post construction defects at the click of a button.
Ultimately, Probuild gained optimal defects management – allowing all stakeholders from the owners/property managers, developer, builder and subcontractor full transparency of all the defects – while eliminating the need for day-to-day involvement by the developer.
Every detail was accounted for – By providing this visual platform, subcontractors were able to identify even the smallest installation issues that required work.
From a financial perspective, DLP Manager platform delivered cost savings across the board, through a more rigorous and efficient process:
Home owners – no more no-shows coordinated response
Developers customer care team has the truth about every defect online in real time
Builders – construction team removed from site
Subcontractors – full documentation of the defects to allow them to plan ahead, coordinate a time and rectify the defect on the first visit
By outsourcing to DLP Manager's managed solution, we were able to save overhead costs of 3 staff members over the course of the first six months and to redeploy them to new projects. DLP Manager's systemised approach has already saved us money, time and reputation – creating a happier, more productive team in the process.
– John Rusak, Construction Director, Probuild
Construction doesn't end when you build the building. DLP Manager knows how to manage what is a painful part of the business – and turn it into positive reputation management.
– Frasers Property Australia
As a property manager with over 100 units under my management Using the DLP Manager platform has transformed the way I manage defects in these apartments. It is the source of truth for all my clients and has reduced the phone calls and emails by 95%. End result is happy clients therefore happy property manager.
– Lina Dawood – Property Manager Edmondson Park
Contact the Team at DLP Manager here.